PART #:
901-1500-4900 / 901X-1500-4900
Cellular & Wi-Fi / WiMAX Combinar / Diplexer
600-2200 & 2400-2500,4900-5850 MHZ, -161 dBc PIM, IP67(901) or IP64(901X)


FEATURES
Splits or combines all the Cellular Bands (600MHz-2200MHz) and Wi-Fi/WiMAX Bands (2400MHz-2500MHz & 4900MHz-5850MHz)
Port 2 combines both 2.4GHz Wi-Fi and 5.8GHz Wi-Fi
Best in Class Isolation between the 2 signals
Very low Insertion Loss with superior out of band rejections
Available in DIN, Mini-DIN, 4.3-10 or Type-N Connectors
Low PIM and High Power Handling
RoHS Complaint
DC By-pass available on outdoor units
Ease of Mounting with mounting holes
Weatherproof / Outdoor options available
In Stock and Available Immediately
Electrical Specification
Frequency Bands
Cellular Bands
600 MHz-2200 MHz
WLAN/WiMAX/2.4GHz & 5.8GHz Wi-Fi
2400MHz-2700MHz
4900MHz-5850MHz
Passband Insertion Loss
0.20 dB
Isolation
≥60 dB @
2400MHz-2700MHz
4900MHz-5850MHz
≥60 dB @
600MHz-2200MHz
Return Loss
21 dB
Impedance
50 Ohms
DC Pass Current
4000mA (Typ) (Outdoor units only)
Lightning Protection
8/20S 10kA Pulse (IEC 801-5) (Outdoor units only)
Input Power
400 Watts (Avg); 2500 Watts (Peak)
Intermodulation (PIM - 3rd)
-161 dBc (2 Tones +43 dBm)
Mechanical Specification
Connectors:
4.3-10 (D43) (Standard)
Other Options – DIN (D), Nex10 (X10)
Housing Finish:
Aluminum Body
Mounting Method:
Mounting Panel
Temperature Range:
-35°C to 75°C
Weight:
4 lbs
Relative Humidity:
5% - 95%
Environment:
IP67 (901) & IP64 (901X)
*** ORDERING INFO:

Indoor Model: Part#: 901X-1500-4900-*
Outdoor Model: Part#: 901-1500-4900-*
* - Connector Option
BLOCK DIAGRAM FOR 901-1500-4900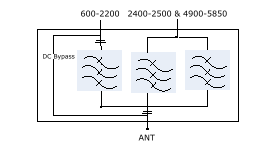 Please contact our sales department at 737-200-7090 or sales@InnowaveRF.com for any custom requirements.
© Innowave RF, LLC. All Rights Reserved. Specs can change without notice. Drawings are for reference purpose only.