501-903M-923M-N
900MHz Anti–Paging/Cellular ISM BPF

501-903M-923M-N is a High-Q Bandpass Filter is mostly used to clean up and minimize Paging/Cellular frequencies and pass through the 900 MHz ISM Band. Its rugged, waterproof aluminum structure makes it perfect for Outdoor applications.
FEATURES:
• ISM Band 903Hz – 923MHz
• Cleans up Pager and Cellular frequencies
• High Q Cavity Filter structure
• Outdoor, Rugged, Waterproof Aluminum Structure
• Low Insertion Loss in the passband 1.5dB (typical)
• 45 dB (min) Rejection at 895 MHz & 931 MHz
• Mounting holes and screws available for easy
mounting on Antenna Pole
APPLICATIONS:
• 900 MHz ISM Communication
• Protection from Paging & Cellular Frequencies
• Rejects Tx harmonics
• Protects Out-of-Band Interference
• Optimum performance when connected between the Antenna and the Radio
ELECTRICAL SPECIFICATION:
Frequency Range:
903 MHz – 923 MHz
No. of Cavities:
8
Insertion Loss:
1.50dB (Typical)
Passband Ripple:
0.25dB (Max)
Rejection Band:
45.00dB (Min) @ 895MHz
@ 931MHz
Return Loss:
15.00 dB (Min)
Power Handling:
50 Watts (Max)
Temperature Range:
-55°C to 85°C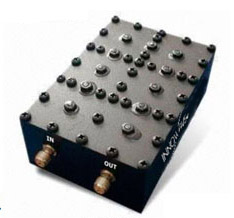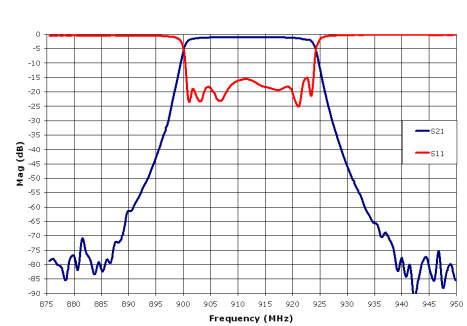 © Innowave RF, LLC All Rights Reserved. All Specifications for Illustration purpose only.
For Complete Specifications, please download the PDF