521-2400M-CH11-N
2.4 GHz WiFi Channel-11 Filter

521-2400M-CH11-N is a High-Q Band Filter, which pass only Channel 11 of the 2.4GHz WiFi Band from 2451 MHz to 2473 MHz. These channel filters are often used in places where other WiFi users are using a different band in the same location. Cavity Bandpass filters is available from Channel-1 through Channel-14 with each channel having a bandwidth of 22MHz wide.
FEATURES:
• ISM WiFi Channel Filter
• Cleans up all the In-band interference caused by other channels
• High Q Cavity Filter structure
• 4 Sections or 8 Sections available depending on the Stop band Rejection points.
• Rugged Aluminum Structure. Weather–Proof Structures Available
• Low Insertion Loss in the passband 1.70dB (typical)
APPLICATIONS:
• 2400 MHz ISM WiFi Band Communication
• Rejects all other frequencies such as GSM
• Protects Out-of-Band Interference
• Ideal for high data rate, 802.11b and 802.11g Wireless LAN applications
• Minimizes Adjacent Channel Interference
• Ideal for use with WiFi access points
ELECTRICAL SPECIFICATION:
Frequency Range:
2451MHz – 2473MHz (CH11)
No. of Cavities:
8 (4 sections also available)
Insertion Loss:
1.70 dB (Typical)
Passband Ripple:
0.10 dB (Max)
Rejection Band:
60.00 dB (Min) @ 2432MHz
@ 2492MHz
Return Loss:
15.00 dB (Min)
Power Handling:
50 Watts (Max)
Temperature Range:
-55°C to 85°C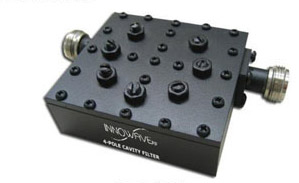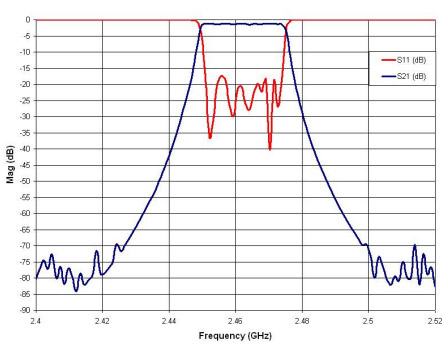 © Innowave RF, LLC All Rights Reserved. All Specifications for Illustration purpose only.
For Complete Specifications, please download the PDF