521-2400M-CH1-N
2.4 GHz WiFi Channel-1 Filter

521-2400M-CH1-N is a High-Q Band Filter, which pass only Channel 1 of the 2.4GHz WiFi Band from 2401 MHz to 2423 MHz. These channel filters are often used in places where other WiFi users are using a different band in the same location. Cavity Bandpass filters is available from Channel-1 through Channel-14 with each channel having a bandwidth of 22MHz wide.
FEATURES:
• ISM WiFi Channel Filter
• Cleans up all the In-band interference caused by other
channels
• High Q Cavity Filter structure
• 4 Sections or 8 Sections available depending on the
Stop band Rejection points.
• Rugged Aluminum Structure. Weather–Proof
Structures Available
• Low Insertion Loss in the passband 1.70dB (typical)
APPLICATIONS:
• 2400 MHz ISM WiFi Band Communication
• Rejects all other frequencies such as GSM
• Protects Out-of-Band Interference
• Ideal for high data rate, 802.11b and 802.11g Wireless LAN applications
• Minimizes Adjacent Channel Interference
• Ideal for use with WiFi access points
ELECTRICAL SPECIFICATION:
Frequency Range:
2401MHz – 2423MHz (CH1)
No. of Cavities:
8 (4 sections also available)
Insertion Loss:
1.70 dB (Typical)
Passband Ripple:
0.10 dB (Max)
Rejection Band:
60.00 dB (Min) @ 2382MHz
@ 2442MHz
Return Loss:
15.00 dB (Min)
Power Handling:
50 Watts (Max)
Temperature Range:
-55°C to 85°C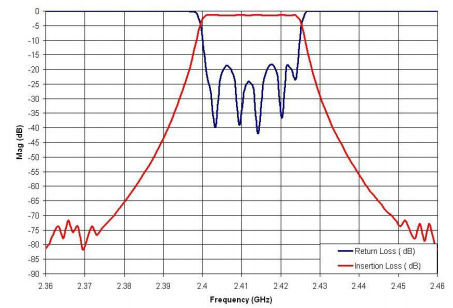 © Innowave RF, LLC All Rights Reserved. All Specifications for Illustration purpose only.
For Complete Specifications, please download the PDF