PART #:
231-600-4000
4X4 6dB Wideband Hybrid Combiner
-161dBc PIM, 600-4000 MHz, IP67


DESCRIPTION
231-600-4000 is 4×4, 6dB Wideband Hybrid Combiner that can be used to combine or split any 4 signals in the 600MHz – 4000MHz range, including the CBRS and C-Band. The combined signals will appear at all the output ports. These are symmetric devices so Inputs and Outputs can be used interchangeably. It can also be used to split one input signal into 4 output ports. The unused port must be always terminated with a 50Ω Load.
FEATURES
Splits or Combines 4 signals between 600 – 4000MHz
Designed to include 600-B71, CBRS and C-Band
Best-in-class Isolation between the 4 ports
Very low Insertion Loss
Low-PIM & High Power Handling
RoHS Complaint
Weatherproof for Outdoor use
In Stock & Available Immediately
Ease of Mounting with mounting holes / brackets
Available in different Connector configurations
Electrical Specification
Frequency Range:
600MHz – 4000MHz
Coupling Loss:
6.35 dB ±0.50dB @ 600-960MHz
6.35 dB ±0.80dB @ 960-4000MHz
Isolation:
22.00 dB
VSWR:
1.30
Impedance:
50 Ohms
Input Power:
300 Watts (Avg) / Port
Intermodulation (PIM – 3rd):
-161 dBc
(2Tones +43dBm)
DC Path:
IN PORT1 -> OUT PORT4
IN PORT2 -> OUT PORT2
IN PORT3 -> OUT PORT3
IN PORT4 -> OUT PORT1
(Max 6.5A AISG2 Conform)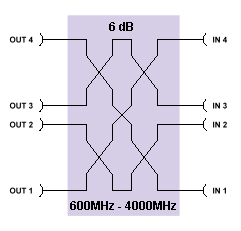 Mechanical Specification
Connectors:
DIN (D) / Nex10 (X10)
Mini-DIN (MD) / 4.3-10 (D43)
Housing Finish:
Aluminum Body
Mounting Method:
Mounting Kit
Temperature Range:
-20°C to 60°C
Weight:
5.00 lbs
Humidity:
5% - 95%
Environment:
IP67
ORDERING INFO:

Connector Configuration:
Part#:231-600-4000-*

* - See Connector Options
Please contact our sales department at 737-200-7090 or sales@InnowaveRF.com for any custom requirements.
© Innowave RF, LLC. All Rights Reserved. Specs can change without notice. Drawings are for reference purpose only.