PART #:
114B-600-3800
4-Way In-Line Reactive Power Splitters
-161dBc PIM, 600-3800 MHz, IP67


DESCRIPTION
114B-600-3800 is a Low-PIM 4-Way In-Line Reactive Power Splitter, designed to evenly split high power signals between 600MHz and 3800MHz. These splitters cover all the traditional Cellular frequencies, including the CBRS Bands. This unique In-Line structure is Compact and can be used without any bulky inter-connections or undue cable stress. They are rated to be used in extreme weather and environmental conditions. It also has a very low Insertion Loss with an outstanding VSWR at all three ports. Available with different connector options.
FEATURES
Wide bandwidth 600 MHz – 3800 MHz to include CBRS band
In-Line Reactive Splitter
Low Insertion Loss and low VSWR
Low PIM, -161dBc
RoHS Complaint
Weatherproof / Outdoor unit
In Stock to low lead time delivery
Superior Construction and High Power Handling
Specifications
Frequency Range:
600 MHz – 3800 MHz
Passband Insertion Loss:
0.75 dB
(Over the theoretical loss of 6 dB)
VSWR:
≤ 1.40 @ 600-960 MHz
≤ 1.30 @ 960-2700 MHz
≤ 1.35 @ 2700-3800 MHz
Power Handling:
300 W (Avg)
Impedance:
50Ω
PIM – 3rd:
-161 dBc (2 Tones +43 dBm)
Temperature Range:
-30°C to 75°C
Weight:
1.25 lb
Housing Finish:
Aluminum Body
Mounting Method:
Mounting Holes
Humidity:
5% - 95%
Environment:
IP67
BLOCK DIAGRAM FOR 114B-600-3800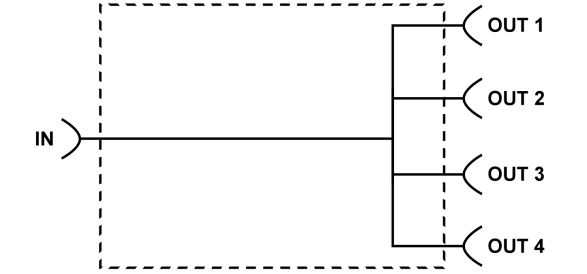 Ordering Info
114B-600-3800-D        — 7/16 DIN Connector
114B-600-3800-MD      — Mini-DIN Connector
114B-600-3800-D43    — 4.3-10 Connector
114B-600-3800-X10    — Nex10 Connector
Please contact our sales department at 737-200-7090 or sales@InnowaveRF.com for any custom requirements.
© Innowave RF, LLC. All Rights Reserved. Specs can change without notice. Drawings are for reference purpose only.