PART #:
112-555-2700
2-Way Reactive Power Splitters
-161dBc PIM, 555-2700 MHz, IP67


DESCRIPTION
112-555-2700 is a Low-PIM 2-Way Reactive Power Splitter, designed to evenly split high power signals between 555MHz and 2700MHz. Because of their rugged construction, they are indestructible and can be used in extreme weather and environmental conditions. It also has a very low Insertion Loss with an outstanding VSWR at all three ports. Available with different connector options.
FEATURES
Wide bandwidth 555 MHz – 2700 MHz
Low Insertion Loss and low VSWR
Low PIM, -161dBc
RoHS Complaint
Weatherproof / Outdoor unit
In Stock to low lead time delivery
Superior Construction and High Power Handling
Available in DIN, Mini-DIN, 4.3-10, Nex10 or Type-N Connectors
Specifications
Frequency Range:
555 MHz – 2700 MHz
Passband Insertion Loss:
0.30 dB
(Over the theoretical loss of 3 dB)
VSWR:
≤ 1.25
Power Handling:
300 W (Avg)
Impedance:
50Ω
PIM – 3rd:
-161 dBc (2 Tones +43 dBm)
Temperature Range:
-30°C to 75°C
Weight:
0.90 lb
Housing Finish:
Aluminum Body
Mounting Method:
Mounting Holes
Humidity:
5% - 95%
Environment:
IP67
BLOCK DIAGRAM FOR 112-555-2700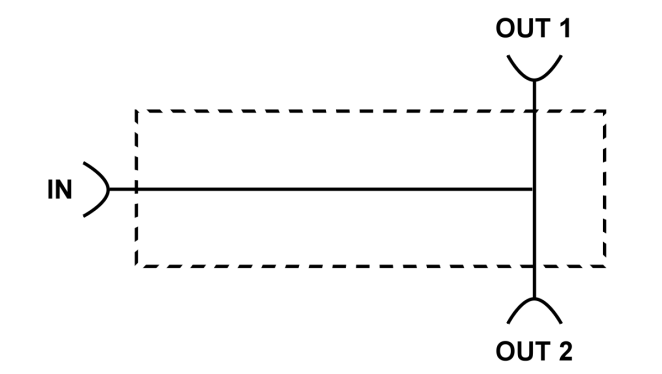 Ordering Info
112-555-2700-N          — Type-N Connector
112-555-2700-D          — 7/16 DIN Connector
112-555-2700-MD        — Mini-DIN Connector
112-555-2700-D43      — 4.3-10 Connector
112-555-2700-X10      — Nex10 Connector
Please contact our sales department at 737-200-7090 or sales@InnowaveRF.com for any custom requirements.
© Innowave RF, LLC. All Rights Reserved. Specs can change without notice. Drawings are for reference purpose only.