LC Filters

InnowaveRF designs and manufactures discrete component (LC) filters that provide a superior performance in a small package for a wide range of critical applications. InnowaveRF utilizes creative component layouts that shrink the overall package size. We use innovative packaging to provide additional Shielding and Better Rejection. All our filters are Epoxy encapsulated or sealed in metal cans for rugged applications and are more tolerant to shock and vibrations. Our designs have high "Q" air wound or toroidal inductors and monolithic ceramic capacitors for best possible performance and have RF absorbing foam for better shielding. We offer a variety of packaging styles such as surface mount, connectorized (BNC, SMA or N-Type), printed circuit board mount or drop-in to suit customer needs.
Excellent Passband Insertion Loss.
Compact size
Low VSWR
High Q and Excellent Selectivity
Good Ultimate Rejection capabilities (up to 10X the Cut-off frequency)
Guassian, Bessel, Butterworth, Chebyshev & Elliptic structures
Shock and Vibration resistant
Designed d using State-of-Art Computer Design Programs
Balanced or Unbalanced structures available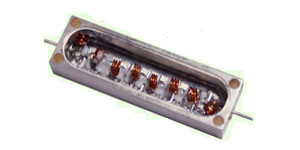 © Innowave RF, LLC All Rights Reserved. All Specifications for Illustration purpose only.
For Complete Specifications, please download the PDF