CAVITY FILTERS

InnowaveRF designs and manufactures a complete product line of High 'Q' Cavity Filters. Our cavity filter designs provide extremely high performance and are weather proofed for outdoor applications. These filters can be manufactured from 500 MHz to 18 GHz, with bandwidths from 0.5% to 50%. Standard designs are available with 3 sections to 12 sections.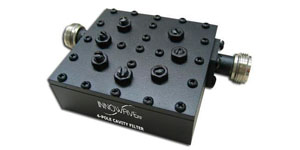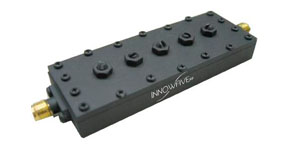 Excellent Passband Insertion Loss. Approximately 0.1dB per section
Low VSWR
High Power Handling
Good Out-of-band & Spurious response suppression
Combline & Interdigital structures available
Low VSWR
Temperature Stable -55°C to 85°C
Custom designed using state-of-art Computer Aided Designs
© Innowave RF, LLC All Rights Reserved. All Specifications for Illustration purpose only.
For Complete Specifications, please download the PDF